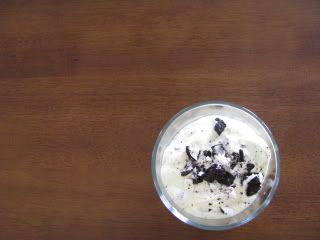 Oreo Dirt Pudding
Ingredients:
1- regular sized container Cool Whip, Thawed
2- Large size Instant Vanilla Pudding, Jello Brand
6 cups Milk
3.5 oz Cream Cheese, softened
1- Package of Oreo Cookies
Directions:
1) Using a blender, prepare Pudding packs as directed, pour into large bowl. Leave about 2 cups of pudding remaining in blender.
2) Add Cream cheese to pudding in mixer and blend well, pour into bowl.
3) Mix Cool Whip into pudding.
4) Crush 2/3 of your oreos and mix into pudding.
5) Crush remaining oreos and garnish pudding.
6) Chill and Enjoy!