Salad Niçoise Sandwich
Niçoise refers to the bold flavors of southern France, Nice to be exact. This yummy sandwich takes about 20 minutes to prepare, or 10 min if you have your veggies sliced before-hand...enjoy!
Ingredients:
4oz. fresh Green Beans, trimmed and cut into 1 inch pieces (about 1 cup)
12oz can Chunk White Tuna (water packed), drained and flaked
1 cup halved Cherry Tomatoes
1/3 cup pitted Kalamata Olives
1/4 cup finely chopped Sweet Onion
2 Tbsp chopped, fresh Mint, optional
1 Tbsp Lemon Juice
1 tspn Olive Oil
3 cups packaged, Mixed Salad Greens
6 Pita Flat Bread Pockets
6 short wooden skewers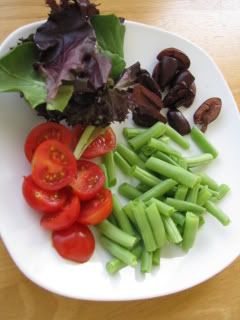 Directions:
1) In a small saucepan, bring water to a boil. Once boiling, add Green Beans and cook for about 4 minutes.
2) Remove green beans and drain, rinse with cold water; drain again.
3) Place beans in a large bowl. Stir in Tuna, Cherry Tomatoes, Olives, Onion and Mint. Add Lemon Juice, Oil and 1/8 tspn Black Pepper; toss to coat. Stir in Salad Greens.
4) Fill each pita with about 1/2 cup of mixture. On each wooden skewer, thread one cherry tomato, one olive and mint leaf; spear filled pitas.