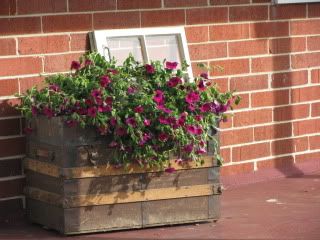 My plants have been a headache. As you know, I decided to start plants indoors from seed this year. Each seed packet said when the seedlings should emerge, most from 10-20 days.
Except mine came up in 3-5 days.
That's a big difference when you are not only waiting on a fence and beds to be built, but what do you do with 500 plants that are ready to plant at the same time.
You cry.
Not really, but you want to.
And when you finally do get to plant some of them, coming outside to find them dead is less than exciting.
I think I will stick to buying adult plants from now on. I can't trust fickle plants to come up when they are supposed to.
I don't know- everything may turn out OK in the end, right now I really don't want to worry about it.
(do you see the red thing in the background- yes, it's a grocery cart. Our neighbors steal carts. ; )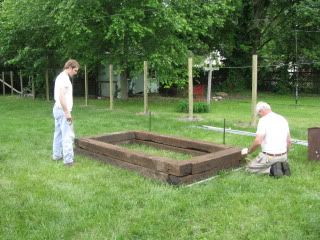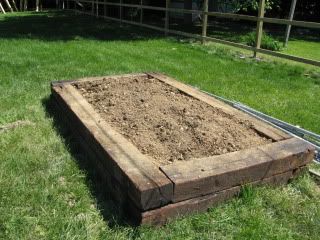 And of course, after they finished the bed- some unfortunate news was brought to my attention. You can't plant any edible plants near railroad ties because of the chemicals inside of them. Great- that's why I wanted the bed built, for my tomatoes, and not only that, but this ruins my ten year plan...I'm not happy.
The fence before it was finished last week: