I am down to the last 3 weeks of school + finals, so I will be taking a break from all forms of social media. If I could get rid of my phone, I'd do that too. :)
There are so many things that I would like to blog about, but I haven't the time.
So, quickly:
Andrae has discovered Nutella. The jar is almost empty.
My English Teacher's son's elementary school dialed the wrong number and somehow got me. It went something like this:

Lady: "Hello, may I please speak with Mr. So and So?"

Me: dumfounded I reply, "Ummmm, I'm in his class..."

Lady: "Well can I speak with him?"

Me: "Oh, no, I mean that I am one of his students. I am getting ready to leave
for his class right now. Is there an emergency?"

Lady: "This is so strange, I am calling from his son's school to let him know that a pipe burst, and all of the children are being sent home in 10 minutes."

Me: "That is so weird!!!! I can't believe that out of the hundreds of numbers that you could have called, that you ended up dialing the number of someone who knew the person that you were trying to talk to!"

Lady: "is your number 000-0000?"

Me: "Yes, is that what you have written down as Mr. So and So's cell number?"

Lady: "Yes"

Me: "Well, I can take a message for him, but he should be in his office right now if you call."

Lady: "Ok, I'll give the school number a call."
It was so weird. And then I told Mr. So and So.
Being the Dean of the Humanities department, it's kind of hard to shock him. Regardless of how strange or how weird, he always seems unimpressed. I guess when you deal with students every day, you become that way. Anyway, after telling him about the story, he was absolutely speechless.
I gave myself a pat on the back. Making your "english" teacher speechless is quite an accomplishment.
Thanks to Andrae's cousin Miss "R", a family geneologist and archivist, we found one of Andrae's long-lost ancestors in a cemetary just up the road. Born in 1840, Andrew Robinson, a veteran of the Civil War, was Andrae's great-great-Uncle. This makes the 4th ancestor of Andrae's to have fought for the Confederacy during the Civil War. Pretty neat stuff...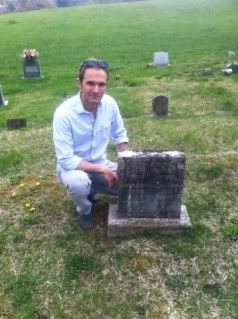 I don't have much more to say, other than when I get back, I'll post some more about Andrae's family's history,
quite interesting actually
, and I'll be gearing up for GARDENING!
We are also going to spend an entire week doing maintentance, painting, decorating, etc on the house at the end of May, so I'm sure I'll have some things to say about that.
In the meantime, I invite you to read some great blogs that I have started reading lately:
For the Home:
The Lettered Cottage
I love, love, love this blog. This young couple are masters of DIY projects, and the results are absolutely astounding. Check out their "reading room/guest room"

Young House Love
This is another young couple who have remodeled two older homes. They have lots of great ideas!

Full House
This gorgeous family should make everyone feel envious. With twin girls and triplett boys, Mom and Dad have their hands full, but somehow still make room for an entirely chic and sophisticated lifestyle.
Love it. It makes me want to have a houseful of kids. They are just too perfect. I normally just want to look at pictures of the family, but the blog is full of beautiful decorating ideas.
For the Expat/Traveler:
JenniAustriaGermany
Jenni's blog is by far my favorite blog. Initially a study-abroad student, she now lives and teaches in southern Germany. I love her stories as she shares the ups and downs of life "across the pond."

wanderlust
Another former study-abroad student, Celeste (real name or pen name?) shares her love for life through beautiful photo essays. She studied in several European countries, and has some great stories, photographs and ideas...

Fairytales Are True If Full House didn't make you green with envy (and yet delight?) then Sarah will. I know that you should never wish for someone else's life, but....
She is in her twenties, already graduated from college, lives part-time in 3 countries (USA, Switzerland and Panama), and she and her husband's first year of marriage went something like this:
A Year to Remember .
Yeah, I counted like 15-some countries visited.
I just sit and read, and cry and sit and read, and laugh, and cry and sit, and dream....
Hope you enjoy these blogs!!
I'll see you on the OTHER SIDE OF FINALS!